Well hello I know I have been really slack in maintaining this blog but one of my goals for 2017 is to post more regularly.
Since I have started sewing I have found a lot of support within the online sewing community.  I am mostly self taught after a few basic lessons from my mother.  It must have been in my blood.  Both of my grandmothers and my Mum sew.  My mother is an amazing quilter, embroider and dressmaker.  Unfortunately she lives 500 kms away.
So whilst I don't plan on sharing tips and tricks, I find seeing everyone's makes really inspiring, so I'd like to contribute.
This year aside from some specific makes, I would like to sew up some of my fabric stash which has exploded over the last year and to make a quilt out of some of my fabric scraps.
I saw Rochelle New's hashtag #2017makenine from her blog Lucky Lucille and thought hey I can do that.  So hopefully this will give my sewing this year some direction.
So here are my pics for 2017
BY HAND LONDON – ANNA DRESS
By Hand London – Anna Dress Link
I work in an office and most days I have to wear a suit jacket.  For me I like to wear a dress with a jacket, it makes getting ready in the morning much easier and I am by no way a morning person.
After seeing a few other people make up an Anna dress I thought the pattern would be great for some work dresses.
I have some cool navy floral and plain fabrics in my stash which would work well.
2. CASHMERETTE – SPRINGFIELD TOP
Cashmerette – Springfield Link
I have a tendency to make a lot of dresses and full skirts so I wanted to fill a gap in my wardrobe and make some tops.  The rave reviews of all of the Cashmerette patterns led me to the Springfield.  My problem areas are usually fitting my bust and hips.  My waist measurement is usually a size or two smaller.
I love the simplicity of the pattern and like the idea of using a contrasting fabrics.  I plan on making this up in both prints and plains.
3. COLETTE – MONETA DRESS
Colette Moneta Via Seamwork or Colette Moneta via Colette
My darling boyfriend bought me an overlocker for Christmas and Birthday (I'm a Christmas baby) last year.  I have used it mostly for finishing garments and would like to try my hand at sewing stretch.
I went to Spotlight for the boxing day sales with my Mum and grabbed just over three metres of black ponte which was $4 a metre.  I thought that the Moneta would be a good match and should make a good work dress.
I am a Seamwork Magazine subscriber but being in the southern hemisphere means that the patterns aren't always practical when they are released I had a whole heap of credits stored up and used them to get this pattern.  All I need to do is pop down to the copy shop and have it printed out.
4. SEAMWORK – CAMDEN CAPE
When this pattern came out I was so excited.  I loved the look but I live in the tropics so it rarely gets cold enough except for coming and going from work in winter.
I've not made a coat before so I want to push myself a little bit.
I haven't found any fabric to use yet but I am hopeful I will come across something.
5. SEAMWORK – ADDISON TOP
I love watching vloggers on YouTube and one of my favourites is Jen from Gingerella.  A couple of months of ago she made an Addison top in a white swiss dot which can be found here.  This got me thinking about making a version of this in white broderie anglaise I have in my stash.  I can also see myself making a few of these in other colours both in prints and plains as a great layering piece both casually and for work.
6. JENNIFER LAUREN VINTAGE – GABLE TOP
Jennifer Lauren Vintage – Gable Top Link
In an attempt to make more tops I want to make a few of these.  I've had the pattern in my stash for a few months after seeing Bex from Subversive Femme's version.
I really want a white, black and navy striped version.  I also like the idea of adding some embellishment but it will have to wait till the weather cools down.
7. WEARING HISTORY – HOMEFRONT OVERALLS
Wearing History – Homefront Overalls Link
This pattern is one of the first pdf patterns that I purchased.  I saw it and had to have it.  However, I haven't made it up yet as I need to grade out the hip which I find quite intimidating.
There are few versions floating out there in the blogosphere which all look amazing.  I have had the dark wash denim in my stash for ages, so this year I am determined to make these in time to wear in winter.
Hopefully I can get the pattern to work for me and use it for a few pairs of jeans.
8. MCCALLS 6696 SHIRTDRESS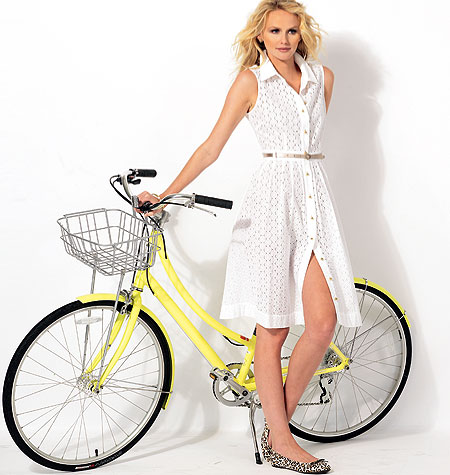 I love the look of a classic shirtdress but I haven't made one.
I am a massive fan of Roisin Muldoon's blog Dolly Clackett.  She has made several versions of this but my favourite is a red polka dot version which can be found here.
A few months ago I scored five metres of red cotton sateen polka dot fabric and all I have wanted to make from it is one of these.  So it is a definite goal for 2017.
9. BUTTERICK B5030 – WRAP DRESS
I really love the look of View C.  I have a beautiful cactus print voile which is calling out to be sewn up.
I used to be very skeptical of wrap dresses but recently bought one to wear for the Christmas Party season and I love it.  It is cool and flattering.
Anyway these are my plans.  Would love to see yours.
Sam